You've spent a lot of time thinking about the interior design of your house. You've nailed the primitive decor aesthetic, but did you remember to style the exterior? The first thing people see when they visit your home isn't the foyer. It's your front porch. Read on for six inviting primitive porch decor ideas to help your guests feel right at home.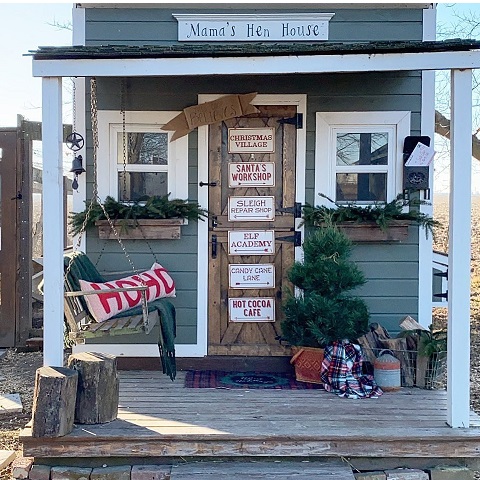 1. Search for Primitive Porch Decor
If you need some inspiration, search "primitive porch decor" and spend some time scrolling through ideas. Consider how you plan to use the space to create an inviting stoop. If your porch is small, you want to be very selective and focus on big items like lighting and door color. If you have more room, imagine how you can use the porch as an extension of your home. Think comfy pillows for rocking chairs, coasters for coffee cups, and a cozy throw for cool nights and mornings.
2. Pick Your Door Paint
Another reason to focus on your porch is curb appeal. When guests pull up to your home, you want your style to be on display immediately, and that style should say, "Welcome home!" One way to make your front door stand out is by choosing a color that contrasts with your siding. Goldenrod yellow is a popular choice that pairs well with neutrals like white or gray. Red or dark blue are classic primitive decor colors that work with vinyl siding or brick. Timeless white-on-white with black or dark brown trim is also eye-catching. Don't forget a welcoming braided rug!
3. Select Warm Lighting
As you search for ideas, you'll notice that primitive porch decor emphasizes the right lighting. When your guests drive up to your home after sunset, you want your porch to look warm and inviting. Tin lamp shades help to cast a soft glow over the doorway. Candle warmers or lanterns are stylish even when they aren't lit, but they make any space feel warm and cozy when they are. If you have room for a chandelier, choose one with metal that can withstand the elements and has candle-inspired bulbs.
4. Make Space to Sit
No matter the size of your front porch, there's space for at least one person to sit. Perhaps you need a primitive wood bench for putting on your shoes, or maybe you have room to gather and drink your coffee on a beautiful morning. Rocking chairs are a must for a front porch with a view so that you and your guests can enjoy quiet conversation or soak in the calm. A bistro table is perfect for al fresco dining for two, or if you have the space, a full table for enjoying family meals. Porches are wonderful gathering spaces that can be enjoyed for hours with the right furniture.
5. Grow Green Things
Primitive porch decor is a celebration of the simple things in life. Family. Food. Nature. Bring a hint of life to your porch with some plants. A seasonal door wreath is festive, while pots of succulents or hanging baskets are easy to care for. Consider a rustic wood and metal planter to grow your favorite herbs in so you can enjoy the scent while you sit and at dinner. No green thumb? Go for faux! A wall pocket styled with fake greens or flowers adds a touch of nature without worrying that it will turn brown and ugly.
6. Shop Seasonal Primitive Porch Decor
Once you have your baseline porch aesthetic, think about how to update it for the seasons. Seasonal decor can be a specific item you only put out during the holidays, or you can buy a small seasonal item to add to your everyday decor to give it a festive twist. If you have some wooden planters, you could swap out the plants you use for different holidays. Use linens and fresh flowers for spring and a vintage glass pitcher with cattails in the summer. Swap your linen for flannel and flowers for pumpkins in the fall, and replace the cattails with holly for winter.
Your porch makes the first impression of your home. Style it with primitive porch decor to maintain a cohesive decorating scheme indoors and out. Shop Antique Farmhouse for unique primitive decor you'll love.