When guests visit your home, what is the first thing that greets them? Be it a porch, a garden walkway, or a simple apartment door, your entryway is your first opportunity to welcome friends and family to your space. Decorate it in style with our
Hey Y'all Collection
, which is made up of unique decor focusing on ensuring your guests feel warmly invited to your space. We carry everything from entryway signs to porch seating, as well as a number of smaller items that are sure to make you smile. Take a look at the following selections, which will bring individuality to your front porch, back porch, or wherever you prefer to welcome and entertain friends and neighbors. They feature a sweet nature theme, and these adorable creatures are sure to add warmth and whimsy to your home.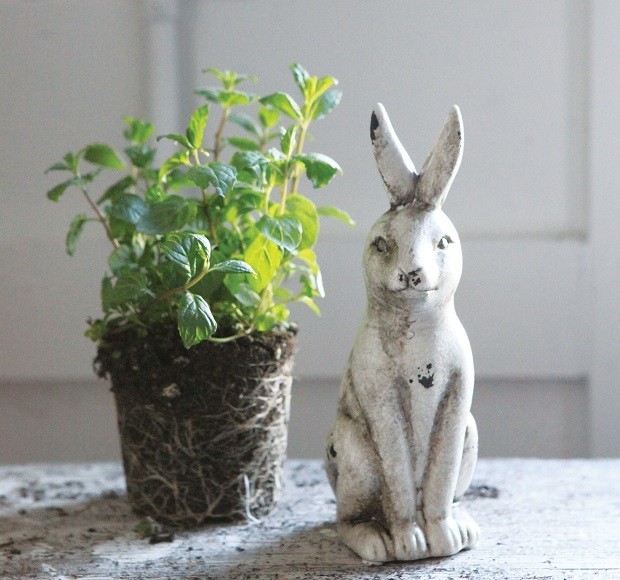 The best decorations are those which make your guests feel comfortable and which give your home its own personality. Accomplish both with this
Rustic Ceramic Rabbits Set
, with a lovely tarnished finish and a soft white base. These rabbits are whimsical and charming, and would look perfect as welcoming pieces for your garden. You can also place them on shelves or an entryway table, where their simple style will be sure to flatter your existing decor. At 8" tall, this pair of figurines is sure to add a touch of nature to any space, and these little bunnies make wonderful greeters for all who enter your home.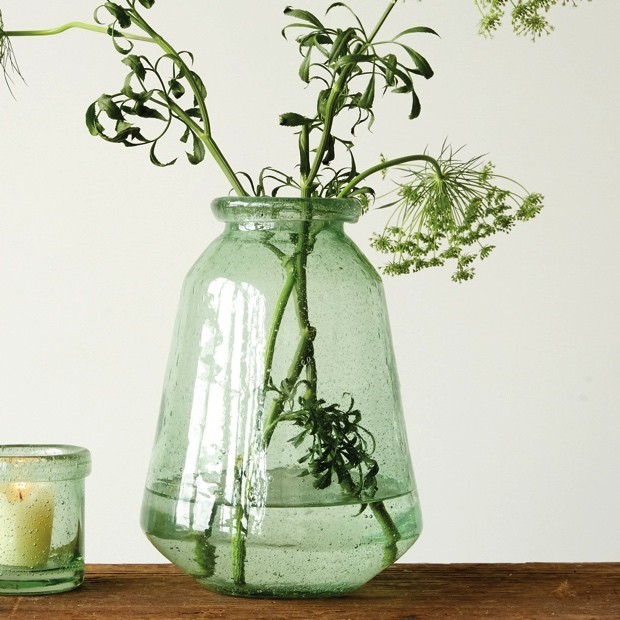 Vases can be lovely decor pieces, and this
Green Recycled Bubble Glass Vase
is a gorgeous example of how vintage-styled glass can add beauty to your entryway. This vase comes in an antique-styled green hue and features air bubbles in the design to mimic the look of older glass styles. The vase would look perfect in your foyer or on a table on your porch. You can fill it with everything from fresh flowers to bamboo, or even rocks or sand to match your particular design preferences. This is one of the primary reasons that we enjoy using vases as entryway pieces: changing their look is as easy as adding a single flower and water. Vases offer incredible beauty and versatility, and this vintage vase would make a wonderful addition to your shabby chic home.
If you are looking for something to bring out the country style in your home, this
Handsome Ceramic Rooster Statue
is sure to be the perfect addition to your space. At 22.5" high, this statue is the perfect height to use as a garden feature, on your porch, or even on a countertop. This rooster features exquisite detailing in his layered feathers and contrasting crown. Whether you live in a farmhouse or just want to feel as if you do, this fun rooster is a simple way to welcome your friends and guests.
Of course, what rooster would be complete without a matching hen? This
Ceramic Hen Statue
is a perfect match for our rooster, but also looks wonderful on its own. This statue features the same exquisite detailing as its partner, with lovely cream, brown. and red hues to flatter your home. This simple figurine adds a whimsical touch to any garden, porch, or kitchen space. Our rooster and hen statues are easy to blend with your existing decor and make for especially attractive additions to
shabby chic
home styles.
For something truly unique, this
Wall Mounted Ceramic Deer Head with Antler Holes
gives you a gorgeous piece of decor that you can personalize for your space. The white ceramic deer head is simple yet elegant, with an understated style that will mesh well with any home decor style. And the antler holes allow you to change the "antlers" anytime you choose. Shown here with branches, you can also use greenery or even berry sprigs to create a stunning figure. Change the antler style with the seasons to give your entryway or outdoor wall versatility. This sweet fixture can be used year-round to welcome your guests with style.
Finding incredible decor for your porch or entryway is easy with
Antique Farmhouse
. We carry lighting, furniture, and a wide variety of other design products to personalize your space. From doorway wreaths to table centerpieces, our decor selections have been specifically chosen by our design team to add unique flair to your
living space
. Whether you prefer a modern, traditional, or
shabby chic
design style, you are sure to find everything you need in our impressive inventory of home products. And with our newest Hey Y'all Collection, you can welcome friends and family in style. Trust Antique Farmhouse for all of your home design needs!