As we decorate our homes, we sometimes forget that our gardens, and our yards in general, are actually the first opportunity that we have to welcome friends and loved ones. A
rustic
garden is a wonderful way to add serenity to your life while also incorporating beauty into your home. With a few special touches, your rustic garden can quickly become one of your new favorite decor opportunities.
But what exactly does the term "
rustic
" mean when it comes to decorating your garden? The simplest way to define this design style is with pieces which seem to blend well with their natural surroundings.
Take, for example, this
Crow Water Fountain
, which sets the stage for any rustic garden. Its distressed style gives it an
antique look
, while the water flowing through the crows' beaks adds the element of sound to your garden experience.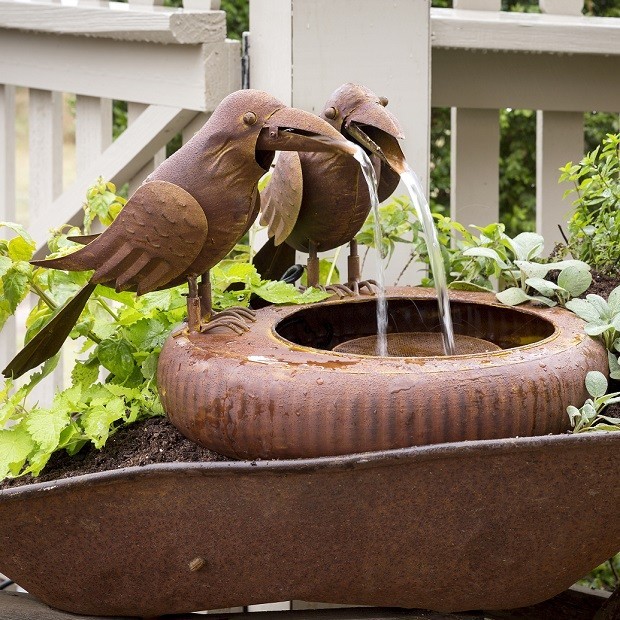 Remember that your garden, like any part of your home, is more than a vehicle for welcoming your guests. It should make you feel comfortable and relaxed, and inspire a sense of wonder. Your home should truly be one of your favorite places on earth. And even as the weather cools, you can make plans to turn your garden into the rustic space of your dreams, giving you a welcoming spot to return to each day. This crow water fountain is a wonderful way to do just that.
In addition, there are a number of other rustic options which can be used in conjunction with the crow piece, or which would stand well on their own to give your garden that special touch. You can find interesting pots for your plants, or even other complementary water features to express your personal style. Take a look, for example, at the following
rustic
garden pieces, specifically chosen to bring your outside space to life. Each of the following pieces add both whimsy and a beautiful aesthetic to any garden, and can bring a smile to your face and warmth to your heart.
 Items such as these lamps and candle holders add more than beauty to your garden. Just as the crow water fountain gives you the sound of flowing water, these lantern options can add soft light to any day or early evening. Even these simple touches can be just what your
rustic
garden needs to turn it into the outdoor space of your dreams.
A rustic garden is exactly what you make of it. From smaller pieces to large water fountains and other displays, your garden is an extension of your home, providing family and guests with a glimpse of what is inside. And as the weather warms each spring, you can turn your garden into additional
living and gathering space
to allow you to commune with nature.
Your garden's decor should be an extension of your own personal preferences. From
shabby chic
to American farmhouse styles, the right garden pieces can give you the feeling of home, even when you are outdoors. As you build your own rustic garden, consider adding a water feature such as the crow fountain to give your home the special touch it deserves. Also, remember that working in the garden itself can be a wonderful source of harmony and relaxation. Tending to your garden and adding personalized decor can turn a decorating task into a truly enjoyable experience. Choose your perfect decor, and find your own
rustic
garden today!