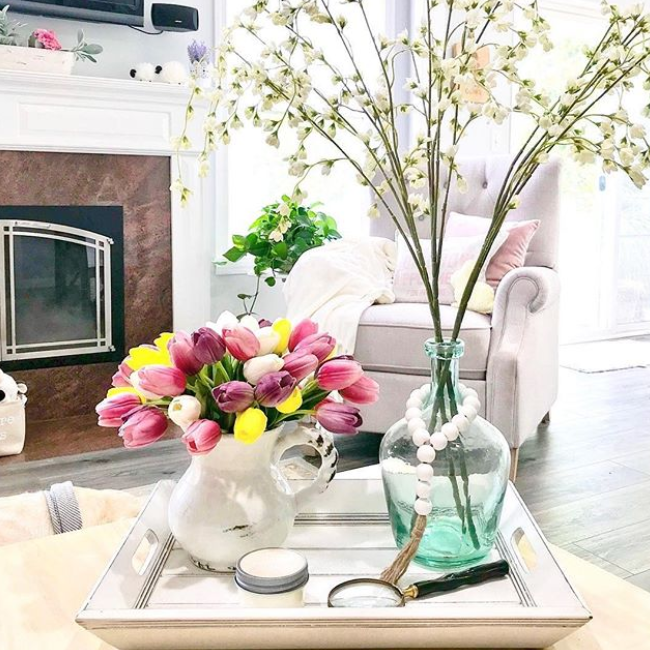 Your home needs a touch of
country chic charm
, and just in time for summer, too. Our assortment of summer blooms, planters, and pedestals will help brighten your rustic home decor and incorporate floral patterns into your favorite spaces. If you're looking at enhancing your spring decor and getting your home ready for summer, here are our top picks.
Entertaining
Get your patio entertainment ready by bringing out all of your favorite indoor textiles. Don't limit yourself to just outdoor material. You can be cautious of the weather and bring your items back inside if you suspect they may get damaged. Bringing the indoors outside makes your outdoor space softer and cozier.
Decorate your outdoor space with items that will hold up in the weather, like this
metal planter on a wooden stand
. Don't stop at bringing the indoors out, make sure you have items that can stay outside all the time so that you can more easily enhance and decorate for company.
Lastly, freshen up your outdoor space with a new coat of paint. Choose a focal piece, and slap on a layer of something bright and fun. You can liven up old brick, stain your deck, or choose a table or two to paint in an accent color.
Relaxing
Nothing beats relaxing on the porch in the heat of the day with a cool glass of sweet tea. If you plan on doing any relaxing this season, you need to get your comfy spaces prepared. Soften your porch with these
potted faux daisies
.
Choose some weather proof lighting to add ambiance to your porch, or add some dimmer switches so you can really set the mood for reading a book or resting at the end of a long day. You won't be able to wait to get home from work when you have a space like this to come back to.
Family Time
Summer is a great time to kick back with your family, enjoy some meals together, and maybe play some board games around the table. If that's the case, bring your
living room
into summer by freshening it up with a new rug. Ground the room and tie everything together, making the room look brand new with just a single item.
Frame out your fireplace with
rustic cement candle stands
. Top them with planters and bright flowers, or ferns that look great year round. It adds just a touch of shabby chic to your living room and the neutral color looks great with your existing decor.
The only rule this summer is there are no rules. Go bold and vibrant with colors, mix and match pottery, and don't stress about nothing matching. The more it clashes, the better. This season is all about eclectic styles and vintage looks with a modern spin.
Check out Antique Farmhouse for all of your home decor needs and enhance your home decor this season. You can't go wrong with new, simple pieces in each room or really go all out and focus on your favorite space. Your home will be summer-ready in no time.